Dr. Afshin Kaivan-Mehr, DC
Chiropractor | Owner
Foothill Family Chiropractic
909-596-1038
info@foothillfamilychiropractic.com
For Immediate Release:
Community Event – Foothill Family Chiropractic's Ten Year Anniversary Family Celebration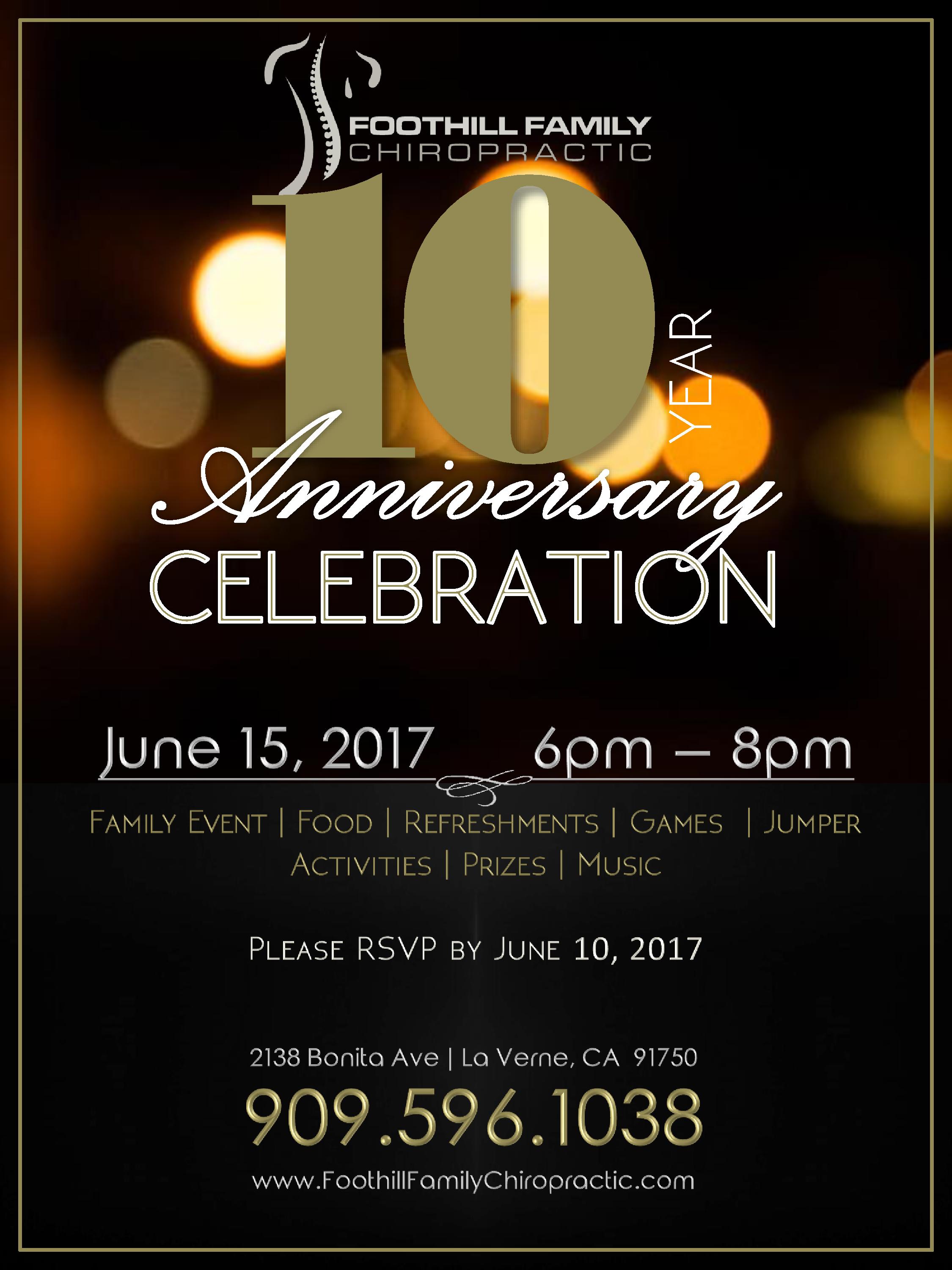 La Verne, CA: Foothill Family Chiropractic is hosting its ten year anniversary family celebration on June 15, 2017, 6pm to 8pm. A family event, the community is invited to enjoy food, refreshments, games, activities, prizes, music, and a jumper for the kids.  Free to the public, however, RSVPs are requested by June 10, 2017.
Over the ten years, Dr. Mehr has built the practice by becoming a health advocate for the community. From initiating and running the Health & Wellness Expo for the City of La Verne, to conducting the sports physical assessments for the local high schools, being their team doctor, and serving on the La Verne Chamber of Commerce board as well as the president, treasurer, and on the board of directors of CCA's San Gabriel Valley district, celebrating this landmark occasion with the community seems fitting.

The event will be held at Foothill Family Chiropractic, located at 2138 Bonita Ave, La Verne, CA 91750. RSVPs can be called in at 909-596-1038 or emailed to info@FoothillFamilyChiropractic.com.
About Foothill Family Chiropractic: Owned by Dr. Afshin Kaivan-Mehr, DC, Foothill Family Chiropractic is approaching its tenth year helping members of the community heal and change their lives through chiropractic care. Specializing in spinal decompression treatment, laser therapy, prenatal/pregnancy chiro care, pediatrics, nutrition, and auto/sports injury, Dr. Mehr believes that receiving the best chiropractic maintenance treatment is vital for maintaining good health and fitness. For more info, visit www.FoothillFamilyChiropractic.com or call 909-596-1038.