Healthy Thanksgiving – Thanksgiving is a time to reflect and give thanks for all the blessings and people we have in our lives. Therefore, before we jump into this blog, we want to take a moment and say thank you to you, for not only taking a moment and checking out our article, but for your loyalty and support!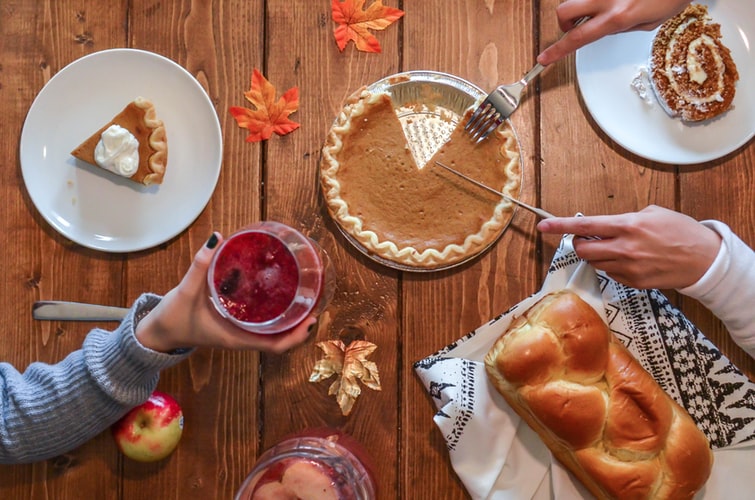 For many, Thanksgiving is "the Holiday" revolving around food. It's fair to say, that on Thanksgiving, many overeat. The irony, in the following month, many are setting their New Year's resolution to eat healthier and get into better shape.
Well, to help you achieve a healthy Thanksgiving, check out our top tips below:
1) Reduce as much stress as possible – Although Thanksgiving is a time of joy and appreciation, if you're hosting, it can be a stressful occasion. As you may already know, stress can cause weight gain, pain, headaches, memory and concentration impairment, sleep problems, heart disease, digestive issues, depression, and anxiety. Accordingly, to diminish some of your Thanksgiving stress and achieve a healthy Thanksgiving, try to remember that "Less is More." There's no reason to go overboard. Before you go shopping and begin preparing, write out a game plan – simplifying and minimizing as many tasks as possible. Perhaps focus on preparing family favorites AND assigning other dishes and tasks to other family members. There's something always fun and wonderful about a potluck, so there's no shame to hosting a potluck style Thanksgiving dinner. Additionally, do as much as possible before hand. Clean out the fridge and kitchen to have space to prepare and store dishes. Have additional Tupperware or plates with aluminum foil on hand to be able to send guests home with leftovers. And, tasks such as preparing side dishes, baking desserts, setting the table, cleaning, etc…can all be done before hand, so take advantage of that additional time. The more you do before the big day, the less stress and more time you have to spend with your loved ones!
2) Enjoy – Yes, Thanksgiving can be a day to overindulge, but…Thanksgiving is only one day of the year! Quite frankly, many of the dishes commonly served on Thanksgiving is quite healthy. Turkey is a great source of protein. Potatoes help lower blood pressure and similar to other veggies, can offer lots of vitamins for your cells, nervous system, heart, and your entire body. Pumpkins offer great vitamins and fiber, have been shown to act as a mood booster, and even have been found to reduce bad cholesterol. Even cranberries are great, as they've been found to prevent and treat urinary tract infections. (For an added bonus, try adding some even healthier alternatives to your Thanksgiving menu. Maybe swap out the regular mashed potatoes for mashed cauliflower. Or try preparing more by scratch instead out of a can.) Concerns would arise if you overindulge on these dishes (or any dish) every day. If you're going to super eat only on Thanksgiving, then enjoy!
3) Eliminate Pain – If you're cooking / using an oven, remember to avoid placing all your weight-bearing stress on your lower spine. When lifting (i.e. a turkey out of the oven), crouch and use your legs and knees for better balance, while avoiding bending directly over the oven door. If you're traveling/driving long distance for the holidays, make sure to take regular breaks and stretch. Additionally, adjust your headrests so the top is no more than 2 inches below the top of the back of your head. Also, don't forget your seat belt. Most individuals in car accidents suffer from whiplash, which can be prevented with a properly adjusted headrest and seat belt. If you're packing and unpacking your car with groceries or luggage, pack your groceries and/or luggage into smaller bags as opposed to one large, heavy bag.
4) Walk it out – Did you know?
It has been found that by taking an extra 10,000 steps each day, you can burn an extra 2000 to 3500 calories a week. Given that one pound of body fat equals 3500 calories (depending on your weight and workout intensity), you could easily lose one pound a week by taking an extra 10,000 steps a day!
Therefore, take Thanksgiving's overindulgence as an opportunity and a reason to go for a walk after dinner. Who knows? Maybe if you didn't like walking before, you'll like it now!
5) Laughter is the best medicine – As you gather around with loved ones for Thanksgiving and the holidays, use this time to truly enjoy each other's company. Have fun, be happy, and definitely laugh! Laughter is the best medicine. It has been proven to overcome discomfort from pain, improve mood, increase resilience, boost immunity, reduce stress, and overall improve one's health. Best of all…it's contagious!
There you have it, tips for a healthy Thanksgiving! Again…Happy Thanksgiving and wishing you and your loved one's a healthy, happy, memorable, low-stress, and pain-free holiday.